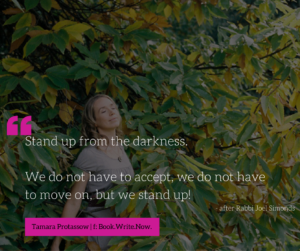 Hello,
The last week's felt like a bit of a shitfight, hasn't it?
Either you're still reeling from the Week That Was in politics and wondering where all the decent people are…
Or you're wondering why there seem to be so many decent people and yet things are still happening…
Or you've been desperately trying not to drown while life relentlessly goes on… and wondering when we get a break.
I've definitely been feeling all of those things.
Things are amazing, and terrible and awful and transcendent all at once.
I've had to stop every now and again and just sit, to allow the feeling wash through me.
We are living in interesting times.
In my world, work has been full-on.
New clients and people who are so very passionate about writing their books, or getting out there in new ways contacting me and saying a huge "HELLS YES!!" to getting their voices out of their heads and into the world to fight the good fight.
To finally say what they're here to say.
Get their book over the finish line, and into people's hands.
And it's good, and real.
And then I came across this on that conflicted space of Facebook just this morning, as I was wondering how to write to you of the transcendence and terror that most of us feel right now, and it was such good medicine: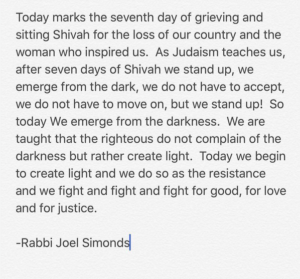 (Shared on Instagram by Amy Sedaris, and re-shared by Lena Dunham)
When faced with difficulties, my first instinct is usually to stand up and fight straight away, darkness or no, whoever's on the other side.
But this time… between last week's blog post where I was full of hope and fire and now, when I've been battered in ways both good and bad by a week that hasn't let up, I can see how the fight I've fought has been to stay afloat, head above water.
I have been in the darkness, even though it's felt like a battle.
I always think of the darkness as peaceful or somehow restful, a warm cave to sleep in.
Spoiler alert: it's not.
Or, for you it might be.

I know people who have gone into their hermit caves for this week, unable to face any more of the world out there.

I know people who have turned off their news sources, to keep their focus clear.

I know people who have turned off their news sources to put their heads in the sand, too, and pretend that nothing's happening.

And I know people who have lost themselves to the news cycle, too, who have turned professional news-watchers to keep up with everything that has gone on.
All of these are ok for the first week out from a large event.
Everyone copes in their own way, and that's ok.
But.
We need to congratulate ourselves for getting through the week, people. And then we need to make a plan.
The plan can just be as simple as deciding to switch off the news for an hour or two, and figuring out how to help.
It can be a decision to stand up out of the darkness, even though it's not ok.
Just standing up, taking stock, not negating the darkness, but looking to the light.
To creating light.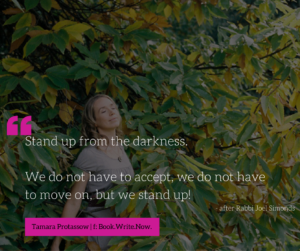 It can be having a cuppa with your neighbours, whatever their political views.
Picking a local charity to give practical support to, that you've always felt like you would like to help, but have never found the time … until now.
Or it can be the slow walk to the keyboard, knowing that you have something to say, and today's the day you start.
Just because we still feel the darkness doesn't mean we can't create light.
So again, because it's my field: if you want to write a book, now's the time.
If you're waiting for a sign, this is it.
Never before have we needed as many voices as possible to get out there and be heard, to heal and amuse, and show us who we are.
And yes, I help people write books, both with my coaching, and with editing.
If you wish to check my services out, please do.
But more than anything, please.
Write, if you are drawn to.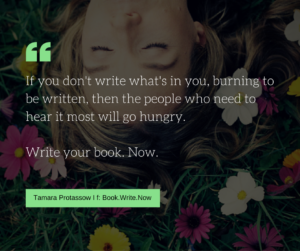 Because if you've got the impulse to write, then someone out there needs to hear what you have to say.

I firmly believe that there is a connection between us that makes this true – I've seen it over and over again.

And if you don't write what is burning in you to be written, then that person who desperately needs your words will go hungry.
And that breaks my heart.
So, go. Write.
Put your heart on the page and send its light into the world.
I'm here, doing the same. We're all in this together.
X Tamara
Stand up out of the darkness