Last week's blog post contained the line: Art needs to be made, not questioned before it's even born.
When I wrote that sentence last week, it was an idea that came out fully formed, and I didn't really take much notice of it.
Then I became aware that I was thinking thoughts along those lines for a few days, especially after a conversation with a my creativity co-conspirator Jo. She was saying that she'd visited an art collective locally in Bulgaria, where she lives, and that the women artists there were planning their yearly exhibition. She ventured that she hadn't done any etching for ages – her things are all packed up in boxes, and haven't seen the light of day.
She was met with blank looks, and a pause.
Then, the comment, "Well, just do some."
They had a complete lack of understanding of why someone would stop themselves from creating.
It's a complete reversal of our Western view that art and creating is a luxury – that we have to somehow torture ourselves with the idea of doing some art, rather than just accepting that art is a fact of life and that we are creative beings and that we should just get on with it.
Even more than that, the Eastern European view of things is that art is a necessary and ordinary part of life. There is a long tradition of not being ashamed of being an artist – people are quite comfortable saying that they are sculptors, writers, painters, musicians. It is, as Jo found, odd to identify as a creative but not to practise.
I'm trying to get a grip on this idea, because it is as slippery as it is necessary to understand.
It's a very pragmatic view of art: if you have the urge and the desire to make art, then make it.
It's putting equal weight on art versus other life skills. There is an acknowledgement that art is as necessary to life as banking or engineering. That life is bankrupt without art.
But this attitude is not a fussy deification of the process either. In this paradigm, art just is – with no pedestal in sight. It just exists, and even me articulating this about the attitude that they have to art makes it exalted in a way that it just isn't. The basic premise is: Art is work, and art is necessary. And if you're an artist, then you just get on with it.
What I'm really interested in is the practical application of this attitude.
With this attitude, when I have something to write, I write it.
I don't think about writing, or muse on whether or not I'll be inspired. I don't second-guess myself and wonder if it'll be any good. And I don't prevaricate, comparing myself to others. I just do it, knowing that I can do it over again if I have to – in fact that this is what writing IS: the doing-over, the honing, the drafts until it's right.
As I was writing this post, I came across an article about Gregory David Roberts, author of the epic, amazing Shantaram.
He is on his thirteenth draft of the sequel: his THIRTEENTH draft. This is what it takes to get it right.
Being up to draft number thirteen is pretty different to the usual morass of self-doubt and procrastination that we allow ourselves to indulge in, isn't it? And it's a total killer of the "tortured artist" or "virtuously busy" non-practising artist persona that most of us carry. When we are in this persona, it is as though we need to ration ourselves, only allowing ourselves a tiny bit of art, if we've been "good". We're on an art diet, and we shouldn't be, because really we are all creators, and creating only does good things for us, unlike indulging in ten chocolate bars a day.
And yet, this is a choice.
We choose to not create, instead staying in the drama of being the Tortured Artist.
We choose to eat the chocolate bar (and another).
We choose to remain a virtuous Art Martyr: the creator who cannot create.
I call bullshit on this.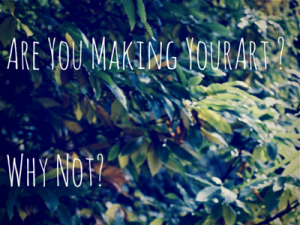 You're choosing not to create. On some level, in some way.
It's definitely safer to say that you're thinking of doing that art, rather than risking it looking like a child's first scrawl. Your imagination is a tempting place to live. I know that things are always more brilliant written in my head than on paper. But when they're in my head, they're not real. And I don't get to share.
And that is the ultimate point of any art, be it writing, painting, musical composition, anything: art is for communicating what lives in our imaginations. It is a necessary and fundamentally human trait – to share what our own world is like, to connect with others and through this, not feel so alone.
It's not rocket science here (or, as a friend likes to say: it's not rocket surgery!).
If you are drawn to create, then create.
Making art is a messy, creative process that is not served by all of our prissy trappings that get in the way.
Make art.
Write.
Just do it, and get it done.
Then, go and make some more, or make what you've done better.
Share it, and allow others into your mind-space.
And then start all over again.
Leave behind your Art Martyr ideas.
If you haven't already, then download your copy of "3 Simple Steps to a Book You're Proud Of" workshop here.